2020 brought us micro weddings where brides and grooms embraced the personalized and intimate feel of smaller ceremonies to truly connect with each other and their loved ones. Once you've popped the question and are officially engaged, it's time to start looking for a wedding venue. A smaller wedding opens up avenues for couples to explore beautiful and unique venues that would otherwise be overlooked. To help couples planning to tie the knot in a more intimate ceremony, The Desi Bride has put together a list of the best micro wedding venues for South Asian weddings in Texas across Dallas, Houston, and Austin.
Top Indian Wedding Venues in Dallas
The Secret Garden Wedding Venue
Magnolia Terrace, Dallas (Capacity: 150)
It's always spring at Magnolia Terrace. A place where all the wonders of a botanical garden meet rustic elegance, Magnolia Terrace's beauty can't be understated. Their rustic design and modern amenities are crafted around the tranquility of nature. Featuring enchanted arches scattered across a vibrant garden, this venue will bring your fairytale wedding to life.
Designed to accommodate a maximum of 100 people, Magnolia Terrace is the perfect destination for your micro wedding. With guaranteed exclusive use of the entire venue awaiting you, what are you waiting for? Step inside their secret garden and discover that dreams do come true.
PC: Magnolia Terrace
The Modern, Sophisticated Wedding Venue
Nasher Sculpture Center, Dallas (Capacity: 200)
Imagine a modern wedding venue with the elegant grace of a Bauhaus-inspired 20th-century sculpture exhibit. How about a dinner surrounded by the grandeur of Pico, Calder, Serra and Sophia? The Nasher Sculpture Center is a unique luxury Dallas venue perfectly suited for your modern microwedding wedding.
A one-and-a-half-acre natural oasis in the heart of urban Dallas, the Nasher Sculpture Center offers beautiful and interactive sculptures as refined backdrops for your special day. This venue is not only luxurious but a unique pick that is sure to be remembered by your guests. Make your micro wedding unforgettable and book this venue today.
PC: Here Comes The Guide
The Charming Vineyard Wedding Venue
D'Vine Grace Vineyard, Dallas (Capacity: 240 - 600)
D'Vine Grace Vineyard boasts a luxurious setting perfect for your everlasting memories-- and will spoil you for choice. This vineyard will provide a spectacular backdrop for your ceremony and even cater to your reception with its four unique event spaces. Experience romantic elegance at their elegant Dallas ballroom, bright greenery at the Il Prato, and the ambiance of twinkling lights under the open sky at the La Piazza D'Amore.
No detail is overlooked and nothing is left undone at this lavish destination, where a one-wedding-per-day policy ensures top-quality oversight of your special event. Booking a wedding with D'Vine Grace also secures you a professional Venue Coordinator dedicated to your particular needs.
PC: ZPRO Films
The Rustic Nature Wedding Venue
Texas Discovery Gardens, Dallas (Capacity: 250 - 600)
The Texas Discovery Gardens includes two outdoor and two indoor locations perfect for your micro wedding. The Grand Allée offers a long and narrow lawn flanked by tall evergreen Savannah holly trees. It features a dazzling fountain that is sure to wow your wedding guests. The Circular Lawn, on the other hand, offers an intimate view of the koi pond and is surrounded by evergreens.
Not only will you have access to these unique venues, but Texas Discovery also promises a touch of personalization with their option to decorate the secret garden, shade garden, and meadow for your wedding's needs. With over seven and a half acres of pleasant greenery and surprising delights within their expansive outdoor area, this venue will make your special day truly remarkable. Your wedding photographer will be giddy with all the perfect places for them to take wedding pictures.
PC: Laura Watson Photography
The Posh, Sophisticated Wedding Venue
Stonebriar Country Club, Dallas (Capacity: 250+)
A country club located in Frisco, Texas, Stonebriar Country Club is a luxury venue that promises to cater to your every need on your wedding day. Professional Private Event Directors will be with you every step of the way to ensure your special day unfolds flawlessly at Stonebriar.
When it comes to amenities, it's hard to beat this venue. Boasting a terrace that was declared one of the premier ceremony sites in all of North Texas, it offers you an exquisite view of a pristine lake and its trickling fountain. In addition, this gorgeous outdoor space is lined with immaculately cut hedges that highlight the natural sophistication of the ceremony space.
Their wedding package includes glassware, barware, china, flatware, and linens alongside a full bar and catering services (including Indian and South Asian options), and a delectable chocolate fountain. This venue is perfect for Desi weddings as they allow external South Asian caterers and ceremonial fires. Enjoy the simple beauty of a golf course's rolling hills from within an elegant, modern building when you book your wedding ceremony or wedding reception with Stonebriar.
PC: Stonebriar Country Club
Top Indian Wedding Venues in Houston
The Modern Secret Garden Wedding Venue
fifty-two-twenty-six elm, Houston (Capacity: 150)
Fifty-two-twenty-six was recently named one of the Top 10 wedding venues in Houston by Culture Map for a reason. Their charming and serene atmosphere is ideal for couples looking for an upscale wedding reception at a modern venue. At this stylish destination, you will be greeted by floor-to-ceiling windows that overlook an inner-courtyard garden stocked with rose-covered walkways, a koi meditation pool, and woodland paths that meander through the grounds.
Enclosed by 20 ft high bamboo sprouts, this cozy yet modern event space is sure to make your special day feel even more magical. No other wedding venue can boast being awarded the American Institute of Architects' prestigious "Building of the Year" -- and fifty-two-twenty-six definitely stands out when it comes to architecture. Its innovative, sloped exterior and elegant interior combine to offer distinct outdoor and indoor spaces, complete with a 150 capacity banquet room that can accommodate a dance floor.
PC: George Street Photo
The Rustic Lakeside Wedding Venue
Balmorhea Weddings and Events, Houston (Capacity: 320)
Dreaming of a destination wedding near a lakeside retreat? Balmorhea Weddings and Events can provide you with a gorgeous waterfront venue and rustic decor just outside of Tomball, Texas. Your big moment deserves an even bigger backdrop, so why not use Balmorhea's private lake as the missing piece in your fairytale wedding ceremony? There are several wedding ceremony spaces in this Houston wedding venue. The outdoor ceremony area is lined with magnificent oak trees that lead to the bright blue waterfront that serves as this venue's centerpiece.
Treat your guests to the magnificent sight of Balmorhea's grand entrance and gorgeous gardens while you treat yourself to their responsive and professional service. The owner and her team oversee wedding planning and the day-of activities and will ensure your weddings goes by without any snags along the way. The venue also boasts a separate bridal suite complete with luxury furnishing and entertainment setups to take your mind of the stresses of the big wedding day.
PC: Balmorhea Events
The Wedding Venue with a Bell Tower
Ambrosia Crossing, Houston (Capacity: 50-100)
A one-of-its-kind Celtic tower, an expansive vineyard, and modern amenities are all included in Ambrosia Crossing's wedding day packages. Their iconic bell tower, which takes inspiration from 15th-century European castles, is available for bird-releasing ceremonies as well as a private, intimate dinner atop its second floor. Alongside the vineyards and gardens that make up its 35-acre greenery, this tower will serve as a unique backdrop to your enchanted wedding photographs.
At Ambrosia Crossing, weddings are encouraged to be DIY, meaning that you can set up your own decor and that all outside vendors are welcomed. With a grand, stoned-accented hall, a horse carriage used for gifts, and a grand piano, however, you will have plenty to work with as you craft your dream wedding. This venue, which is completely family-owned, also offers a field of seasonal bluebonnets and outdoor ponds that will be perfect for your wedding day.
PC: Ambrosia Crossing
The Magical Fairytale Wedding Venue
A Thousand Oaks, Houston (Capacity: 250 - 400)
A Thousand Oaks is a gorgeous, tranquil venue located in Cypress, Texas. Perfect for an intimate micro wedding, or an outdoor celebration accommodating up to 400 people, this venue is sure to create a dreamlike atmosphere for you on your wedding day. Its famous oak trees surround a pond that boasts a dazzling fountain display. Celebrate outdoors with A Thousand Oaks' expansive gardens, lit up by orange lanterns after sunset. With a waterfall view and portable staging available, this venue will surely live up to your expectations of a flawless wedding night.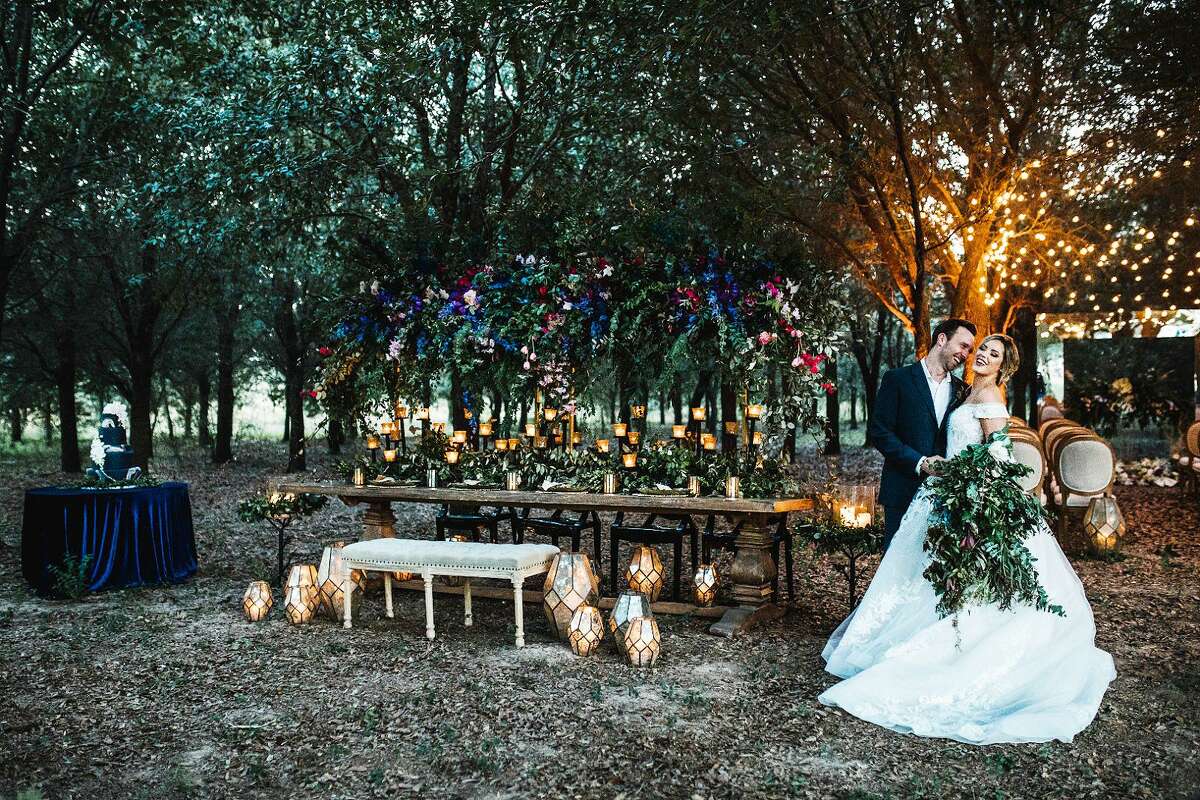 PC: Eri Reyna of Pixel Studio Weddings, Houston Chron
The Italian Castle Wedding Venue
The Bell Tower on the 34th, Houston (Capacity: 300)
Classic and timeless are two words that perfectly sum up The Bell Tower on the 34th. A luxurious venue designed for the ease of couples who book it, this site features ornate Italian architecture, an iconic cascading "water wall" and dramatic staircases that lead to elegant, classy ballrooms. From its castle-like outside complete with private gardens and fountains to its intricate interior decor, this venue will elevate your micro wedding to the next level.
Booking this venue for your wedding ensures 24-hour access to their customer portal where they guarantee premium service. In addition, your needs on your special day will be catered to by an exclusive event coordinator -- not to mention their complimentary valet parking and packages with nearby hotels to give you and your guests the comfort of shuttle services.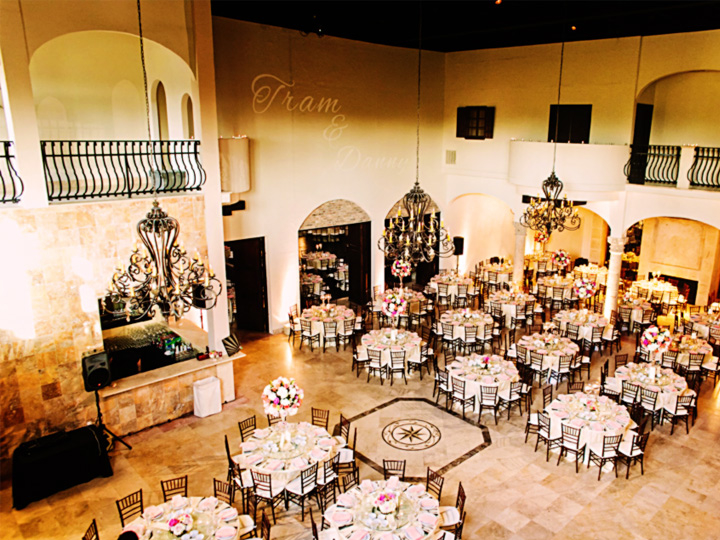 PC: The Bell Tower on the 34th
Top Indian Wedding Venues in Austin
The Contemporary Wedding Venue
Laguna Gloria, Austin (Capacity: 150)
Located right beside the beautiful Lake Austin, Laguna Gloria is not just a contemporary art museum. This stunning site that brings the term "art-in-nature" to life doubles as a beautiful microwedding venue. The outdoor sculptures that surround the venue are completed by the historic Mediterranean-style Driscoll Villa built in 1916, an ambient and luxurious location to host the ideal wedding reception.
Named the best Austin wedding venue for 2015 by The Knot, Laguna Gloria is a historic venue with deep ties to Texas culture. It features works of art from an array of international artists and will add a layer of grandeur and sophistication to your special day. At the Laguna Gloria, you will be able to use Lake Austin and the museum's lush green grounds as the perfect backdrop for your ceremony.
PC: Laguna Gloria
The Romantic Wedding Venue
Umlauf Sculpture Garden, Austin (Capacity: 250)
Ensure your wedding day is as unique as the story of your romance by booking an event with Umlauf Sculpture Garden. Located at the heart of Austin, Umlauf's plentiful outdoor sculptures and romantic gardens will turn your wedding into a private getaway. Walk hand in hand with your partner through winding trails and come across a variety of tranquil ponds at this gorgeous museum venue.
With a special package for micro weddings of up to 15 people, Umlauf knows how to cater to your personalized needs. It provides a waterfall summit or base as possible locations for your sure-to-be mesmerizing wedding among sculptures and greenery.
PC: Umlauf Sculpture Garden and Museum
The Wedding Venue with Hill Country Charm
Pecan Springs Ranch, Austin (Capacity: 400)
Want the luxuries of an uptown wedding with a generous serving of hill country charm? Then Pecan Springs Ranch is the wedding venue for you. This venue, complete with a flowing creek and a beautiful pond filled with colorful fish, promises an unforgettable microwedding experience. There are numerous ceremony sites you can choose from and a private bridal suite.
Green all year round with a burst of wildflowers in the Spring, you will no doubt find a blend of intimacy and outdoor wonder at this ranch. Walk into a climate-controlled building complete with a prep kitchen and a groom's area that opens up to a spacious terrace and brings the outside "in." What seals the deal is this venue's perfect location -- just 10 minutes from Downtown Austin!
PC: Pecan Springs Ranch
The Modern Medieval Wedding Venue
Le San Michele, Austin (Capacity: 80-300)
Modern amenities and medieval decor come together in a wonderful fusion at Le San Michele, a premier wedding venue based in Austin, Texas. High-ceiling rooms are furnished with antiques and wrought iron fixtures in this old-world venue that brings you the graceful class of the European countryside. Stone columns and large urns line the entrance and a warm fireplace greets you indoors at this magical wedding venue.
But this venue is beautiful inside and out -- Le San Michele's outdoor spaces are expansive and lavish, featuring a limestone terrace and koi ponds. With statues, fountains, rosebeds, and ornamentation beyond your wildest dreams, this location is overflowing with scenic backdrops for your wedding day.
PC: Le San Michele
The Whimsical Hummingbird Venue
Hummingbird House, Austin (Capacity: 220)
Ideal for an evening ceremony, Hummingbird House's magnificent landscape lighting combined with its meticulously maintained garden spaces provides you a spectacular wedding venue. Named Wedding Wire's Couple's Choice winner, this Austin venue has an intimate outdoor space and a climate-controlled pavilion. Gorgeous white silk adorns their pavilion, and brilliant glass chandeliers ensure a graceful ambiance for your micro wedding banquet. In addition, this luxury tent offers sleek and modern glass-paneling so that the beauty of Hummingbird House's vast natural expanse never leaves you for a moment on your wedding day.
PC: Hummingbird House, Peal Events Austin
The Wedding Venue that is a Greenhouse
Greenhouse by Driftwood, Austin (Capacity: 10 - 50)
Combining striking elegance with intimate venues, Greenhouse by Driftwood is a one-of-a-kind choice for your small intimate wedding. The venue features two distinct greenhouse locations: one tropical and the other a desert, as well as two outdoor spaces and one tent slab for in case it rains and indoor events.
The desert venue hosts a maximum of ten individuals, creating a unique setting for your micro wedding. The vibrance of natural lighting and abundance of plants ensures a picturesque wedding day at an unforgettable location. With balconies, catwalks, and open spaces, the Tropical greenhouse is a more versatile venue that will nestle your wedding amid palm trees and cycads. Greenhouse's multiple outdoor locations assure versatile seating arrangements and a wonderful view of outdoor ponds and green lawn areas.
PC: Jenny DeMarco Photograph
Cover PC: Jenna McElroy
If you are looking for the perfect wedding venue for your Desi wedding, whether it's an intimate wedding or a big fat Indian wedding, please visit The Desi Bride's Wedding Venue Concierge for help in finding the right venue for your wedding ceremony, sangeet, and other events.
Need help with planning your dream Indian wedding in Dallas, Houston or Austin?
Use The Desi Bride Wedding Venue Concierge to find your luxury wedding venue
Find top Indian wedding hair & makeup artists in Dallas here
Find top Indian wedding hair / makeup artists in Houston here
Find top Indian wedding hair and makeup artists in Austin here
Fly in luxury celebrity Indian bridal hair and makeup artists for Texas Desi weddings from this list
Find top Indian wedding photographers in Dallas here
Find top Indian wedding photographers in Houston here
Find top Indian wedding photographers in Austin here
Fly in luxury celebrity Indian photographers for Texas Desi weddings from this list
Find other Indian wedding vendors for Texas South Asian weddings on The Desi Bride