How to Buy the Perfect Engagement Ring Like a Millennial
Diamonds are a girl's best friend -- while engagement rings and modern wedding bands can have other stones like rubies and sapphires, a majority of women still prefer to go with a classic diamond. Choosing a diamond (let alone the perfect wedding ring) is a daunting task for the groom-to-be. You have to consider the diamond's color, cut, clarity, and carat-- and then come the extras, like the wedding band, design, ring setting, and engagement ring box. After all, the perfect proposal is one that gets the details just right, and shopping for something so precious can seem like a monumental task.
To help you in your quest for finding the perfect wedding ring, The Desi Bride has compiled behind-the-scenes tips from three South Asian grooms who recently proposed to their significant others. Meet our grooms:
Vedang Singh is a product manager and met his wife while they were pursuing their MBA at the Kellogg School of Management together. A data consultant by trade and a dancer in his spare time, Chris Rajan met his fiancee at a dance studio and proposed to her with a custom-designed ring. Mihir Sheth, a program manager at American Airlines, met his now-wife through Coffee Meets Bagel.
Here's what these gentlemen had to say about how they chose the perfect engagement ring for their soon-to-be brides:
1. Go "ring shopping" before and after you buy her ring
Chances are, you are planning to make this next move together as a couple, which means that you and your wife-to-be have openly discussed marriage and the next phase of your lives together. Use your ongoing conversations about marriage as a starting point when it comes to finding the perfect engagement ring for her.
"Whenever we were passing by a Tiffany & Co or a jeweler, we would just pop in and check out rings," Vedang said. "From all those visits, I had a feel of what she wanted in a ring." Whether you go window-shopping or choose to spend an afternoon browsing the internet and unwinding, looking for rings together can be both a bonding experience and a way to learn about what kind of design and diamond your partner likes.
"I don't think I ever told her when I bought the ring," said Mihir Sheth, who also looked for rings with his partner. "And then even after I bought it, we would still go "engagement ring shopping for her," but she didn't know I already had the ring." Mihir's white lie (taking his girlfriend "shopping" even after he was hiding the ring he bought for her) is a simple and effective way to get that perfect ring without giving up the timing and details of your proposal. You can continue to "shop" and be on the lookout for details like wedding bands that she might like, even after you've purchased your ring.
One extra tip? If you're talking about marriage but haven't yet gone engagement ring shopping, be the one to suggest it to her. There's nothing more romantic than taking the initiative to move towards your future. She will know that you're serious about proposing and not just indulging her.
2. Choose Cut over Carat
Although we like to think that bigger is always better, when it comes to diamonds, the cut can outweigh the carat.
While the carat weight of a diamond is somewhat influential in determining how big the diamond's diameter will be, a diamond's brilliance and beauty lie mostly in its cut. A diamond with a cut that leans towards "Very Good" or "Ideally cut" will have gorgeous symmetry and a brighter, better shine no matter how small it is. Comparatively, worse-cut diamonds may look bigger but lack the beauty of their smaller, better-cut counterparts.
In fact, some diamonds with a greater carat size will still be smaller or the same size as a lower carat diamond. Why? Because the bulk of a diamond's weight is often in its depth, an aspect that will be completely obscured by most rings anyway. Ultimately, the visual appeal of a larger stone isn't even guaranteed when shopping for high carat diamonds, even if their price increases.
We're not saying that carat doesn't matter (because your fiancee may agree otherwise), but the cut is what gives diamonds their glimmer on a sunny or well-lit day. The added bonus to choosing cut over carat is that smaller, well-cut diamonds are less expensive than larger carat, worse cut diamonds, so you can actually buy a more beautiful ring at a lower price.
3. Think about the ring design, not just the diamond
The sheer number of diamond settings and ring designs can seem overwhelming, but this is where you can easily apply what you've learned from shopping together with your partner. In addition, you can ask yourself some basic questions such as, "Does my partner have an active lifestyle that would require a more secure setting for her ring? Does she prefer a clean, modern aesthetic, or a more classic look?"
While Tiffany, prong, and tension settings can be great for adding brilliance and visibility, a bezel or flush setting is a more secure option for someone who is active with their hands. Deciding on the ring style will also help you choose a diamond that fits inside and compliments your ideal engagement ring design. In addition, once you come up with the design, it becomes that much easier to figure out where you want to buy the ring from. Streamline your process by settling on the design first and retailer second.
Chris, who ultimately settled on a ring from Expressions Diamond Dallas, a Texas-based wholesaler of diamonds, said he first drew up the ring design and then went out looking for jewelers who could bring that idea to life. "I first asked, 'Do you have that diamond? Do you have this size? What are the options you have for that?' And so just on that alone, some of the stores didn't have any," Chris said.
Thinking about your dream design early on can help you narrow down the final choices for the jeweler you will purchase your ring from.
4. Consider what your future wedding bands will look like
You will want to design the ring according to her preferences, but the design should also complement your future wedding bands.
Consider designs like this classy Tiffany's nesting band that features a "V" shape design which will seamlessly integrate with a solitaire engagement ring for a stylish, timeless finish. Instead of the engagement ring obscuring the bride's wedding band (or vice versa), go for complementary designs that accentuate both rings. Tiffany & Co has designed a matching engagement ring and wedding band for her, but also offers matching Tiffany couple wedding rings for him and her. You'll want to chat with your jeweler on options.
In Mihir's case, he purchased the wedding band alongside the ring so that it could perfectly complement the diamond he was going to use to propose to his girlfriend. The band has a built-in cusp so that the engagement ring fits perfectly on it without rubbing against the diamond.
5. Go beyond the ring itself
If you're too busy thinking about the diamond, you'll forget about the ring-- and if you think too much about the ring, you'll forget that you need to accessorize the ring with the perfect box. There's a reason why Tiffany & Co packages the ring in its iconic "Blue Box."
"Even after you get the ring, what also matters is the box," Vedang said. "You get these cool boxes these days which have a little light inside. And that light shines. So when you open it, the light shines on the ring, and it makes the diamond shine even more." Do you remember the scene in Sweet Home Alabama where Patrick "McDreamy" Dempsey gets down on one knee and surprises Reese Witherspoon with a proposal at Tiffany & Co? Notice how the Tiffany & Co engagement rings sparkle with the lights. Light is what brings out the shine in diamonds and rings, and these days you can add that extra sparkle by bringing the light with you when you propose.
We recommend elevating your proposal with an elegant and luxurious box. Consider this deceptively simple ring box by Parker Square that's smaller than your wallet and comes with a built-in LED light. For a cheaper yet still refined look, go for this gold and black box with a unique shape and classic design.
6. Reach out for help in finding the perfect engagement ring
While it may seem like a daunting decision to make on your own, remember that you don't necessarily have to do it alone. When Vedang was looking for ways to get his dream ring, he reached out to close family and friends to simplify the process. "My parents found a jeweler in India, like a family jeweler that we've worked with a bunch of times," he said. "We gave them the design, and they made it real."
Chris, too, said he only found Expressions Diamond Dallas because of his father's old college friend. It's important to leverage connections because they can save you precious time as you get closer and closer to your proposal.
Even if you don't have older siblings or friends who are already married, your parents likely have a wealth of knowledge when it comes to jewelers that can make your vision into a reality. The important thing is to realize that your friends and family will always want to help bring you closer to your big day and that it's okay to lean on them for support.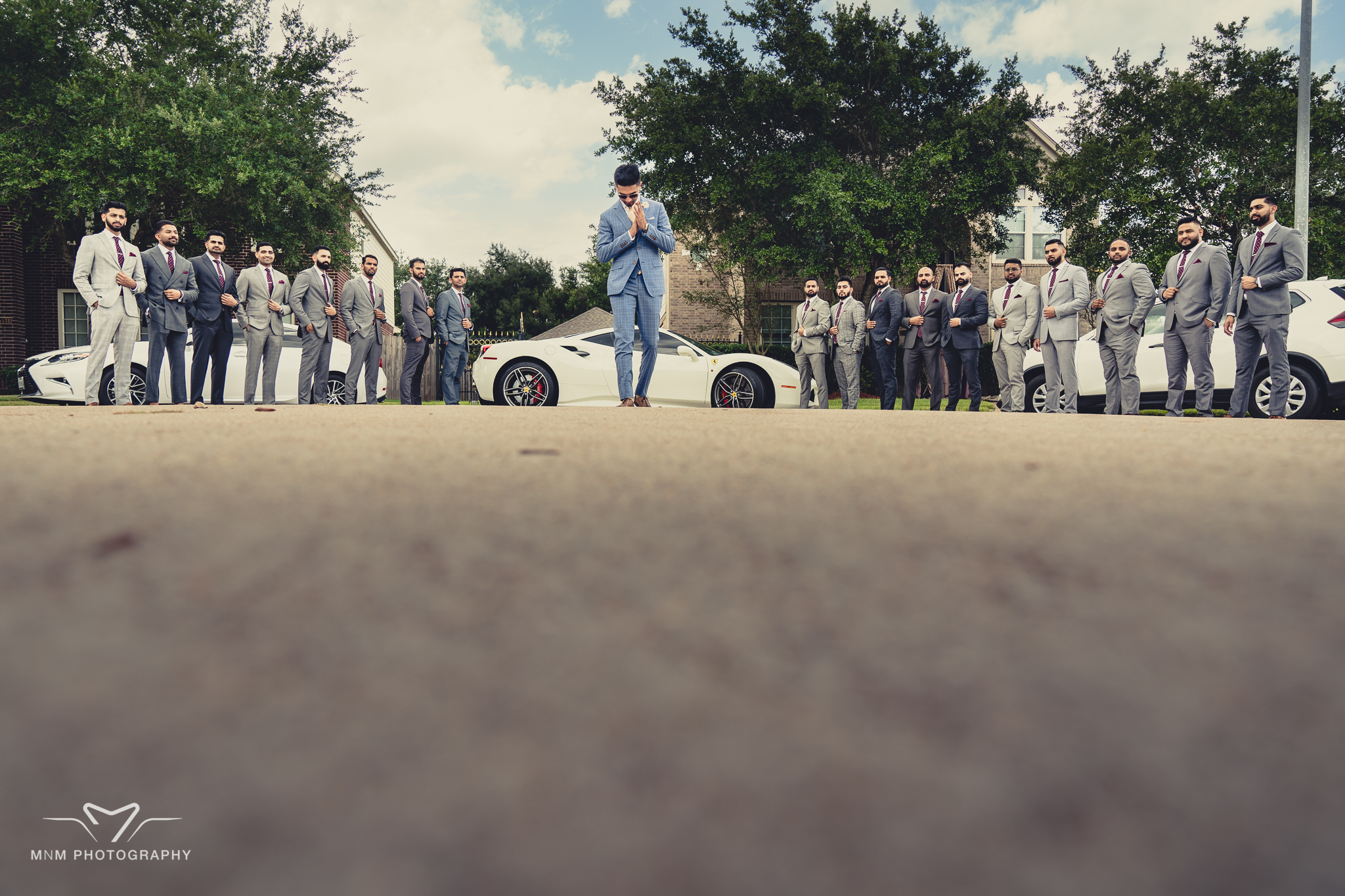 PC: MnM Photography
7. Secure your diamond ring
As Mihir Sheth notes, buying a diamond is a huge investment, and you want to be sure you're properly insured for one. Especially as you move closer and closer to the proposal, walking around with several-thousand-dollar diamond in your pocket is not a position you'll want to be in without the proper guarantee from your seller. For that reason, Mihir said he put his trust in chain retailers that are better with guarantees and insurance coverage than smaller or local stores. "If you lose it or something on it, you want it to be replaced and fixed properly without having to jump through too many hoops," Mihir said.
Chris' advice concerning diamonds is similar: he says to look out for the GIA number and make sure that any diamond you buy is GIA certified. GIA, a principal authority on grading the value of diamonds, is a mark to look out for when investing in a high-quality gemstone for your engagement ring. Most diamonds come with either a GIA or IGS certificate, and you should ask for your gem's identification to ensure you don't end up buying a fake diamond, Chris said.
8. Think bigger picture beyond just the proposal
Don't settle for less when it comes to your engagement ring, because it can often symbolize who you and your partner are as a couple. As cheesy as it may sound, a ring is more than just a ring, especially for brides who often dream of their perfect proposal.
As Chris put it, this ring is going to be something that she looks down at for the rest of her life, and it has to be something that reminds her of you. "She's gonna look down in it when she's mad at you, she's gonna look down at it when she's happy," Chris said. "She's gonna look down at it when she's sitting on the couch watching TV. And it's really superficial, but in some ways that represents you and what you're doing."
You may choose to have your rings engraved with a quote or special date. Work with jewelers like Zameer Kassam who design rings that tell your story, or go with a minimalistic ring to express your love.
Our ultimate advice is to really take the time and do your own research when it comes to designing and finding a ring because ideally when you put a ring on it, it's a once-in-a-lifetime purchase!
Need help with planning your dream Indian wedding in Dallas, Houston or Austin?
Use The Desi Bride Wedding Venue Concierge to find your luxury wedding venue
Find top Indian wedding hair & makeup artists in Dallas here
Find top Indian wedding hair / makeup artists in Houston here
Find top Indian wedding hair and makeup artists in Austin here
Fly in luxury celebrity Indian bridal hair and makeup artists for Texas Desi weddings from this list
Find top Indian wedding photographers in Dallas here
Find top Indian wedding photographers in Houston here
Find top Indian wedding photographers in Austin here
Fly in luxury celebrity Indian photographers for Texas Desi weddings from this list
Find other Indian wedding vendors for Texas South Asian weddings on The Desi Bride