When Sonia Talley began dating her now-husband, she said she was never met with hostility, just curiosity by those around her. But as an Indian woman dating a White man in Nashville Tennessee, questions about religious and cultural considerations were common even if they weren't asked with harmful intentions.
Talley, an orthodontist based in D.C., said that the questions were asked out of curiosity and that she never really felt othered because of the person she was with.
But Disha Mistry Mazepa, host of the popular interracial dating podcast But What Will People Say? says that for desi women, in particular, dating outside your culture can lead to instances of guilt-tripping from parents.
"When it's women, it's like, 'How dare you? Who do you think you are?'" she said. "It's a lot of emotional manipulation. It's a lot of like, 'You're gonna ruin our family.'"
The guilt, Mazepa adds, can continue long after the wedding passes for some couples. Once your family "accepts" your decision, they may leverage that acceptance against you in a form of continuous guilt. Since they "allowed" the wedding to happen, some parents feel they now have more control in other aspects of their daughter's life.
But Mazepa strictly rejects this behavior.
"Brown girls feel bad about literally everything. Spending money, going places, the clothes they wear, the people they hang out with. We're just ashamed of everything all the time," she said.
Over the course of running her podcast, Mazepa says she's happiest about becoming a source of empowerment for desi women and being able to tell others that they are free to live the lives they want for themselves.
She said she also realized the great variety in the types and circumstances of interracial couples when it comes to half-south asian pairs.
"We like to think that the stereotype is: girl likes boy, girl's parents freak out, girl's parents get over it, they get married, end of story. But it's really not like that."
Interracial couples, just like any other, come in a variety of shapes, sizes and stories.
From day one, some couples share that they are dating someone from a different culture with their parents. Others, Mazepa says, wait until they are financially independent or until they are sure of their relationship. But one thing is certain: planning a fusion ceremony that makes both sides happy can feel impossible.
When it came down to having her own fusion wedding, Sonia Talley said it was important to consider how the discussions between the two families would play out and what her role was in these conversations. Ultimately, she said she acted as a representative and tried to be the one to talk to her own parents and her side of the family, while her husband was tasked with negotiating with his own parents.
"As a parent, now I can understand more than ever that there are certain hopes that our parents have of our marriage ceremonies and we wanted to respect that on both sides," Talley said.
Marrying - and even dating - interracially can seem like a big decision, especially for South Asian women, especially if they come from conservative families where they might be the first family member to plan an interracial wedding. We, at The Desi Bride, value the merging of two cultures and believe in the beauty of fusion weddings and interfaith ceremonies have brought together a variety of perspectives on what it means to be an interracial couple in this day and age. With today's millennial couples and modern partners, Indian interracial weddings are becoming quite the norm. Join us, in conversation with Sonia Talley, Disha Mazepa, and Hindu priest Ranjan Ravaliya, to discuss interfaith dating, weddings, and married life.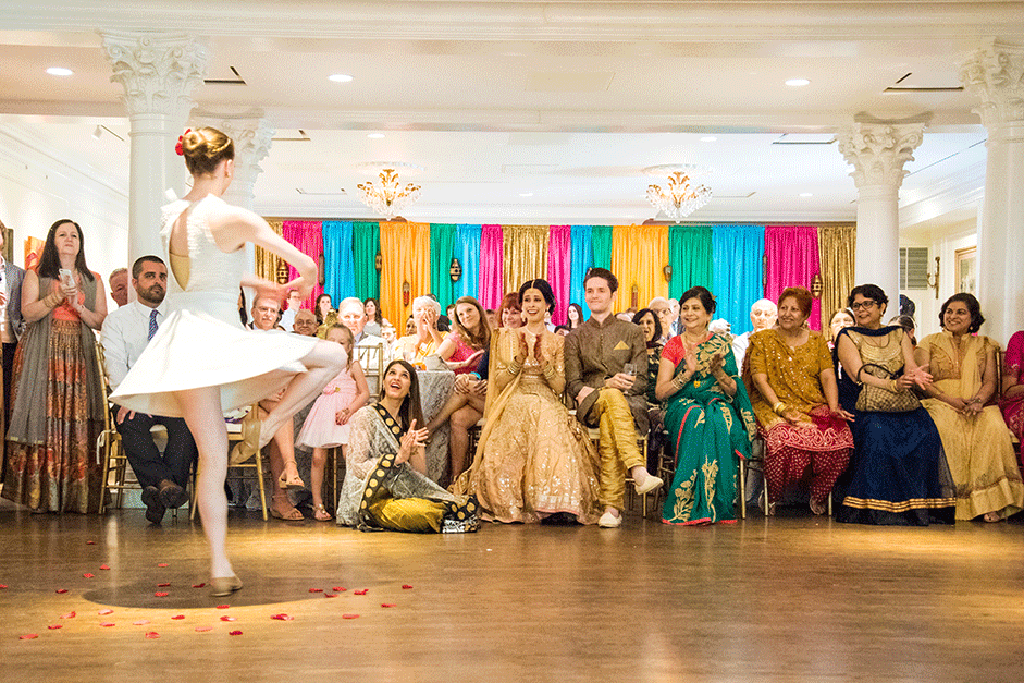 Courtesy of the Washingtonian

DISCOVERING SIMILARITIES ACROSS CULTURES IN INTERRACIAL SOUTH ASIAN WEDDINGS
Even though Sonia's husband's family had never been a part of an interfaith or fusion wedding ceremony before, they embraced South Asian wedding traditions wholeheartedly. Their open-mindedness led to discovering shared ground between Christian and Hindu cultures.
"We did the Saptapadi, but then we also read vows. I feel like those are kind of similar in each culture," Talley said.
She said that the tying of the knot in Indian wedding ceremonies is very similar to the Unity candle that is lit in Christian ceremonies. While the two rituals are different in terms of the actual actions undertaken by the couples, the broader symbolism of two lives becoming entwined remains the same.
The abundance of parallels in wedding ceremonies across religions and cultures, however, doesn't stop with Hindu and Christian ceremonies. The New England Priest, who has been an interfaith wedding officiant since 2017, says that there are parallels in Hindu and Jewish customs as well.
In a traditional Jewish ceremony, the breaking of a glass, for example, can be mirrored by the breaking of a clay pot in Hindu rituals. In Hindu ceremonies, the groom breaks the pot before entering into the mandap with the bride to announce his presence and declare, without speaking, his intent and capability to push boundaries and limits for the one he loves. In Jewish tradition, the breaking of the glasses by the couple is done to remind the crowd of solemnity in the face of celebration, as a desire that the couple's love may never break even as the glass shatters.
"I have done a couple of weddings where they have taken vows even after taking the seven steps (Saptapadi)," Ravaliya said. "And in some cases, they've exchanged rings in the middle of the ceremony itself."
According to Ravaliya, unification is a recurring wedding theme across almost every culture she has encountered. The similarities between exchanging vows and Saptapadi, between Unity candles and Bandhanam, are but a few examples of the diverse yet similar range of fusion wedding possibilities when it comes to South Asian wedding rituals.
MAKING CONSIDERATIONS FOR THE PERFECT FUSION INDIAN WEDDING
When Sonia and her husband decided to invite two priests to officiate their fusion wedding, the decision was in part to properly explain and carry out the aspects of the ceremony that were important to either side.
"I would talk to my parents and he would talk to his parents about what parts of the marriage ceremony were the most important to keep," Talley explained. "And then we carefully curated a wedding program where we hopped back and forth between the two cultures."
On her wedding program, Sonia included explanations for the various rituals taking place so that her guests could understand the importance of each aspect of the big day.
While a lot of language can be made up for through translation and explanation, some cultural differences might seem too big to bridge the gap. For one, how do you reconcile a three-day-long South asian ceremony with a typical Western wedding where the ceremony lasts only 20 minutes?
Talley's answer: a smart approach to the venue.
She booked a hotel for her D.C. wedding so that her relatives could fly in from Michigan, but the venue also allowed her guests to take breaks for themselves during the ceremony.
"My husband's grandparents are quite elderly. So if they were ever tired during the day, they could just go up to their hotel room for a break since an Indian wedding is a two-three day long affair."
These considerations, Talley explained, made her guests feel "comfortable and rested" throughout her fusion ceremony.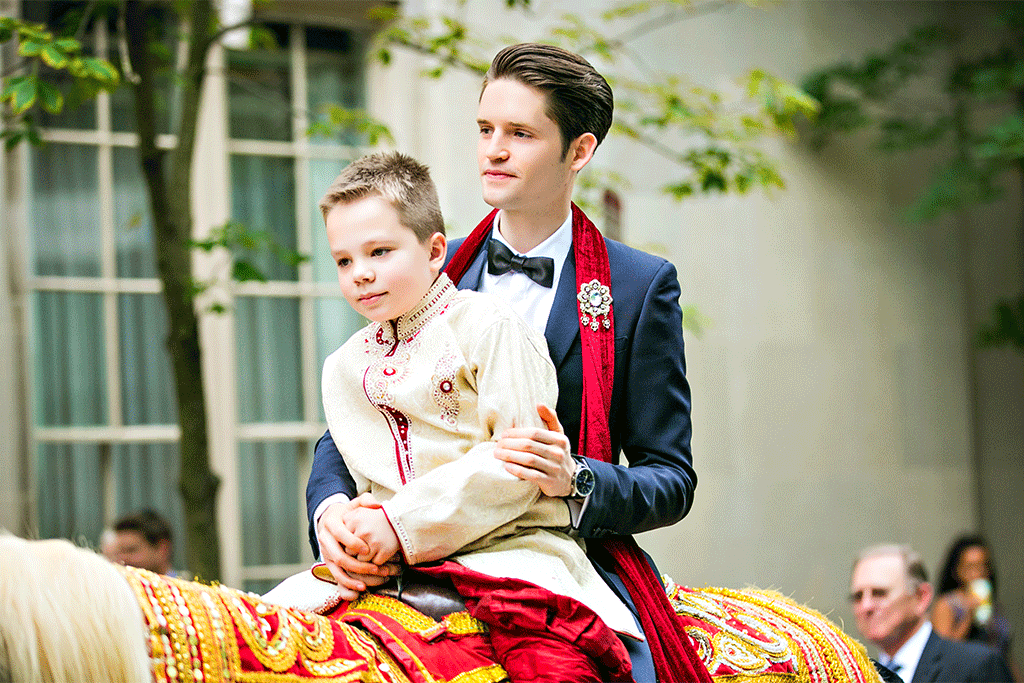 Courtesy of the Washingtonian

THE RIGHT APPROACH FOR A FUSION INDIAN WEDDING?
"So my first question to anyone who comes to me is, 'What is important to you?'" Ravaliya said.
When The New England Priest engages with her clients, her method is one of open-mindedness. By assessing which ceremonies are important to the couple (and by including parents and sometimes even grandparents in her consultations), she is able to gain a better understanding of which rituals might be of particular importance to the couple.
Oftentimes, this comes with excluding the rituals we don't find as appealing. When couples say they don't want to include the Kanyadaan or the Vidai as a part of their ceremonies for their not-so-egalitarian meanings, The New England Priest is more than willing to part ways with some aspects of culture for the happiness of the couple.
Picking and choosing which ceremonies are important in any wedding, but they can be especially empowering for an interfaith couple to be able to make choices about which aspects of their culture they want to embrace. For Ravaliya, Hinduism itself has no set approach to marriage. Her personal philosophy is that there is no "right or wrong" when it comes to your wedding.
"If you look at the scriptures in India or in Hinduism, right, so, people have gotten married just by imagining right? Goddess Parvati got married to Shiva the first time just imagining. How do you explain that? So, when you look at Krishna, he had what, 16,000 wives? When I say that there is no right or wrong way of getting married, this is because there are so many examples of non-conformative marriages in Hinduism," Ravaliya said.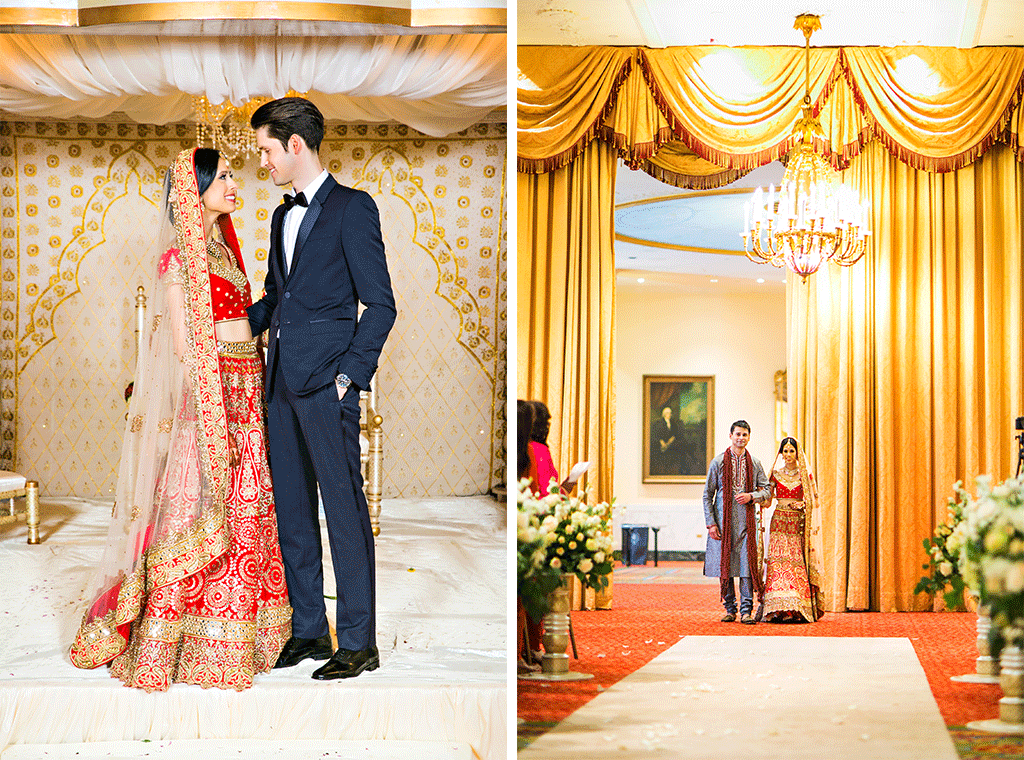 Courtesy of the Washingtonian
BEYOND THE INTERFAITH INDIAN WEDDING
The question of "the right approach" remains ambiguous for interfaith couples long after they have said their vows. Talley, for one, has been charting her own course when it comes to raising her children in a household that still retains and values two very different spiritual practices.
Talley said her family "celebrates Diwali and celebrates Easter" and emphasized the importance of the holiday season when it comes to children. A lot of the celebrations are geared towards family fun, and so Talley said they make a conscious effort to plan the year with their children's multicultural upbringing in mind.
"Just mindfully talk about which holidays you would celebrate and how you would answer certain questions (about religion)," Talley advised other interfaith couples.
Ultimately, inter-racial and interfaith couples can often feel like they are going down the road not taken-- whether that is with their wedding ceremonies or with their lives after the Big day. What's important is to stay true to yourself and true to your partner, and understand what aspects of marriage and life are most important to you.
Courtesy of Maharani Weddings
Need help with planning your dream Indian wedding in Dallas, Houston or Austin?
Use The Desi Bride Wedding Venue Concierge to find your luxury wedding venue
Find modern Hindu priests in Texas here
Find top Indian wedding hair & makeup artists in Dallas here
Find top Indian wedding hair / makeup artists in Houston here
Find top Indian wedding hair and makeup artists in Austin here
Fly in luxury celebrity Indian bridal hair and makeup artists for Texas Desi weddings from this list
Find top Indian wedding photographers in Dallas here
Find top Indian wedding photographers in Houston here
Find top Indian wedding photographers in Austin here
Fly in luxury celebrity Indian photographers for Texas Desi weddings from this list
Find other Indian wedding vendors for Texas South Asian weddings on The Desi Bride