Secrets for a successful marriage by a South Asian couple
In 2015, I met my husband at business school. One of my first memories is how I met him for the third time at a Diwali party, and he forgot my name. In 2016, we became best friends, and in 2017, our last quarter of school, we started dating. My husband stayed in Chicago, and I moved to New Jersey for work. We stayed in a long-distance relationship up through our first year of marriage, but that's not relevant, for now.
In 2018, exactly a year after we started dating, my husband proposed in Austin. I like to say that we had a beautiful and incredible celebration with family and friends, and then the next day, we started thinking about wedding planning. The reality is that I had started planning our wedding well before he proposed (oops!). A proposal just meant that we could put down a deposit on a venue without feeling embarrassed about being two steps ahead and that we had officially started our 314-day wedding planning journey.
Wedding planning was a year of drama with the constant nightly post-work task list, and stress to host the "perfect" wedding. While I would personally never do it again, I realize the challenges and want to make it easier for other couples and families. I left Corporate America to start The Desi Bride, making wedding planning easier and connecting couples planning South Asian weddings in Texas with curated vendors.
After hosting our dream wedding in Jaipur and a third reception in Dallas, we finally finished our year of wedding planning. With the journey behind us, I contemplated, "what's next?" as the Desi in us has taught us about life and the constant climb. Reality hit that my "shaadi isn't a destination."
Getting married is just the start of your next chapter, and it's not easy. As a recent bride and the founder of The Desi Bride, I've learned a successful marriage (not saying we're there yet!) takes time, energy, and intentional strategy. My husband and I have spent almost half of our marriage in a long-distance relationship, followed by the other half in a pandemic, living with my parents for a bulk of it. While we are always each other's best friends, there are days when marriage doesn't feel like bliss, and those are the days where what we do matters the most. I want to share three lessons my husband and I have learned from being married to each other for the last 2 years and change. Who said we're counting?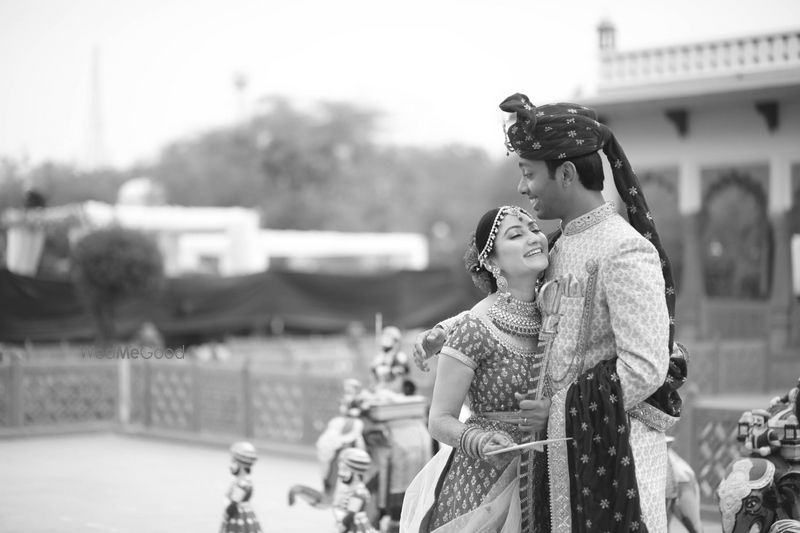 PC: Memoirs Photography
Fiercely independent but still together. How do you still do "you" with your significant other around?
I got married to my husband 11 days before I turned thirty (I don't recommend having your wedding anniversary and birthday 2 weeks apart!). Both of us had our own lives, especially given that we had mostly been in a long-distance relationship and 29+ years of not being together, hobbies, and dreams.
We quickly learned the importance of carving out "me" time, friends / family time, and couple time. We initially tried to spend all our time together, but then we quickly realized how much we missed our friends and doing our own thing. It's important to create a sustainable foundation. For us, pre-pandemic, this meant Friday nights were for hanging out with friends either in Manhattan or Jersey City, Saturday mornings were for my Zumba class / hubby's soccer with his guys, and Saturday nights were date night. While we changed this routine up a bit if we had travel or other events come up, even with the pandemic, we've tried to keep this balance – having moved to Dallas, we now spend Friday nights with my family, work out separately on Saturday morning, and do something like a date night in the evenings.
Secondly, it's important to understand each other's priorities. For example, my husband absolutely needs his YouTube binge-watching time and Saturday / Sunday mornings to watch soccer. I realized quickly that if I try to take away this time or interrupt, it won't be high quality together time, and that he will hold it against me. I've learned to work around his priorities and make sure that he's getting time for them, even if that means rescheduling brunch with friends or letting him watch the game while I drive us somewhere. Sometimes we don't realize our priorities until we skip out on them, and then, we feel like crap. We've had to have multiple conversations about what is important to each of us over the last two years, so today, we know what the other cares about and make sure to prioritize.
Secretly dating even though we're married. How do you move from being IN each other's lives to A PART of each other's lives?
Since we were best friends before we dated, it was easy to move from being friends into a relationship – we are always best friends first. With that said, when we got married, we initially felt like we were still friends. We've had to learn about how you move from just being in each other's lives to becoming a part of each other's lives.
Firstly, there is something about building "our" home. Prior to marriage, we had two separate apartments. I picked out the furniture I liked, I put my shoes where I liked, I went grocery shopping when I liked etc. When you get married, it becomes more about what "we like." I didn't think my husband would care about picking out our new couch, but I was actually wrong. He wanted to pick something comfy to watch his soccer games on (priorities!). It's important to build your home together, so it feels like it belongs to both of you and no longer is a bachelor pad.
Secondly, making joint decisions, even when it takes longer, helps both of you feel vested and a part of something larger than yourself. Whether it's picking out a dinner spot or how much to invest in the stock market, it helps to sit down, talk through options, and make a joint decision. Over time, you'll learn to put yourself in your partner's shoes and understand their perspective or how they might think about something.
Thirdly, be a team, even when there's a fire. It's important to feel united and know that your partner will always take your side, even if there's a rough argument with parents or the in-laws. It's important to build that trust early and know that you can always count on your significant other.
Finally, and one of the hardest lessons for us has been to become a part of each other's families. Both of us are extremely close to our families. I would always laugh when my parents would mention how it's important to build a good relationship with your spouse's in-laws, but the reality is that it really is important. When I see how close my husband is to my parents and siblings and how he treats them like I treat them, I feel fortunate to call him my partner, and it makes me love him even more. Being close to each other's families makes your relationship even stronger.
Communicate like your marriage depends on it because it does.
Everyone says that communication is important in a successful relationship, but people don't talk about what successful communication is. We are often just expected to know how to communicate, but it's not always that simple.
Firstly, set expectations. Whether it's communicating what time you'll leave your parents' house or when you'll finish work for dinner, it helps to set an expectation instead of having your partner guess.
Secondly, be transparent. If my husband says something that makes me feel unhappy, I used to just hold it in (and use my passive aggressive tone), but then I learned, why not just tell him how I feel? He's slowly learned on what's acceptable and what's not okay and become more empathetic to my feelings. Being transparent doesn't always come easy as it means you have to understand what you're feeling and be assertive, but it's an important skill for a strong relationship (with your partner, best friend or family).
Thirdly, we've set a rule to discuss conflict and never go to bed upset. Most of conflict is caused because of miscommunication, and it's important to talk out why you're upset. We like using the "whys" and "what's" to dive into our conflict and figure how to come to a solution. For example, if I'm upset because my husband mentioned that my simple math isn't as good as his (which happened the other day), then I admit that I'm upset, and we dive in once I've cooled down a bit. Why do you think I'm upset? Why does it matter that you said I'm not good at simple math? What could you have said instead? What will you do differently next time? These questions help us get to the root of the problem. His comment came off condescending, but more importantly, comments like that drive biases towards women. Once we got to the root, he quickly apologized, and over time, both of us become more empathetic and better at communicating.
Our secret weapons for a successful marriage
We have found multiple tools that help us become better significant others and build a strong and giving relationship.
Our marriage charter: Right after we got married, we spent a brunch outlining our promises and vows to each other on a napkin. We turned that napkin into a Google doc, and every year we relook at our marriage chapter to make sure we are upholding the vows that we jointly decided to be most important to us.
Annual vision and goal setting: At the beginning of every year, we whiteboard our individual and joint vision – from personal, to joint and professional vision. Then we turn our vision into tactical goals (like did I work out today, did I meditate today, did I call my in-laws today etc.) that we measure daily and weekly. We revisit this Google sheet of goals quarterly to re-adjust goals. We've learned to keep each other accountable and also constantly focus on individual growth and growth as a couple.
"State of the marriage": I will give our therapist credit for equipping us with this weapon. Every Sunday night, we talk about our state of the marriage – What was our highlight and lowlight? What did we love about our significant other, and what do we wish they had done differently? We expect constructive criticism during this time and having an honest conversation about what went well and what didn't go so well helps us level set and act more intentionally in the coming week.
A strong family and friends support system: Last but not least, having a strong support system is crucial to our marriage. We learn from our families and friends on how to become better together and better for each other.
Just like I said at the beginning, shaadi is not a destination; it's just the start of your journey together. I hope that you'll find your own intentional way of building and living a successful marriage. Please reach out and share your tips!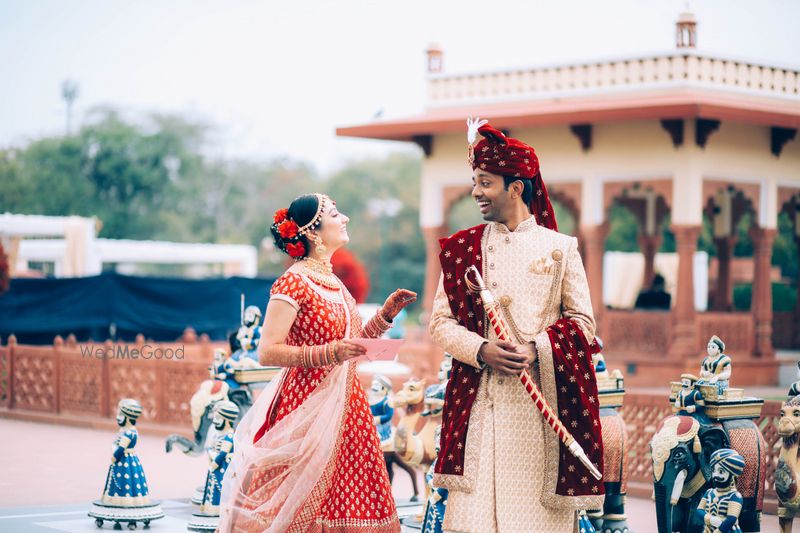 PC: Memoirs Photography
Need help with planning your dream Indian wedding in Dallas, Houston or Austin?
Use The Desi Bride Wedding Venue Concierge to find your luxury wedding venue
Find top Indian wedding hair & makeup artists in Dallas here
Find top Indian wedding hair / makeup artists in Houston here
Find top Indian wedding hair and makeup artists in Austin here
Fly in luxury celebrity Indian bridal hair and makeup artists for Texas Desi weddings from this list
Find top Indian wedding photographers in Dallas here
Find top Indian wedding photographers in Houston here
Find top Indian wedding photographers in Austin here
Fly in luxury celebrity Indian photographers for Texas Desi weddings from this list
Find other Indian wedding vendors for Texas South Asian weddings on The Desi Bride
About The Founder of The Desi Bride
Arjita Shrimali is the Founder of The Desi Bride, a one-stop digital platform for couples and families planning South Asian weddings in Texas to find curated vendors. She is a passionate problem solver with a BA from The University of Texas at Austin and an MBA from Northwestern's Kellogg School of Management. She brings a mix of strategy and e-commerce from her career at Deloitte Consulting, Amazon, and Samsung.