The Mehndi or henna ceremony can be a somewhat relaxing and fun event in a bride's hectic social calendar. It's a great time to unwind with your girlfriends and enjoy yourself. The Desi Bride has put together this curated list of Mehndi favors for your guests, so all you have to worry about is enjoying your bridal mehndi designs! These unique finds are sure to wow your guests and make your party that much more memorable.
Madhu Chocolate Bars
Who doesn't love chocolate? Go local for your Texas Henna celebrations by opting for Madhu Chocolate bars as party favors. In Hindi, Madhu means honey or sweet, so the founders decided to not only name their company Madhu Chocolate but also embody the mantra of "Be Madhu to one another." Handmade in Austin, these bean-to-bar colorfully wrapped delights are ethically sourced and pack Desi flavors like Dark Masala Chai, Saffron Milk, and Lemon Coriander. To top this, Madhu Chocolate and Milk and Cardamom just announced a scrumptious collaboration with new bold bonbon flavors, including Kesar Badam with a saffron milk chocolate ganache; Morning Chai with Parle G biscuits, and Golden Milk with turmeric, saffron, and cardamom!
Ethically Made Bangladeshi Bath Soaps
Make an impact during your bridal henna ceremony by using these handmade soap bars from 700 Rivers. Each piece is created by Bangladeshi artisans who have escaped human trafficking. Support dignified work environments by supporting this ethical bath company and giving your girls a luxurious bar of bath soap.
Gorgeous Translucent Lanterns
Not only are these lanterns handcrafted, but they are also detailed with henna designs and rhinestones that are sure to dazzle your guests. With 5-star reviews on Etsy, the lanterns will no doubt add a burst of color to your Mehndi party. These lanterns make for great candle holders and cute, stylish home decor pieces.
Custom Planters
Want something more sustainable that your guests can take up? "Let love grow" with these customized, rustic succulent planters. You can design these with custom drawings, your name, and your date, making it both a reusable and memorable gift.
Personalized AirPod Chargers
Customization doesn't have to stop with your name and date-- why not take it a step further and give each of your guests a gift with their name on it? These bright AirPod chargers can be easily customized on Amazon with guest names, quotes, or anything else you desire. With multiple colors to choose from, this Mehndi favor can be both stylish and useful for your girls.
Modern Head Chain Jewelry
A classic Mehndi favor with a chic, modern twist--- these headpiece chains would make a delightful gift for any guest. Blend Turkish stone and Desi flavors to craft a timeless Mehndi experience for your guests. Not to mention, chains like these are elegant and fashionable, which means your guests will be using them long after your special day has passed.
Henna-styled Candles
With rhinestones and ornate gold mehandi designs, these candles are anything but ordinary. Scented with orange and strawberry, they go beyond just adding color to home decor. Make your purchase through Etsy and you'll be able to personalize them with names, dates, and more.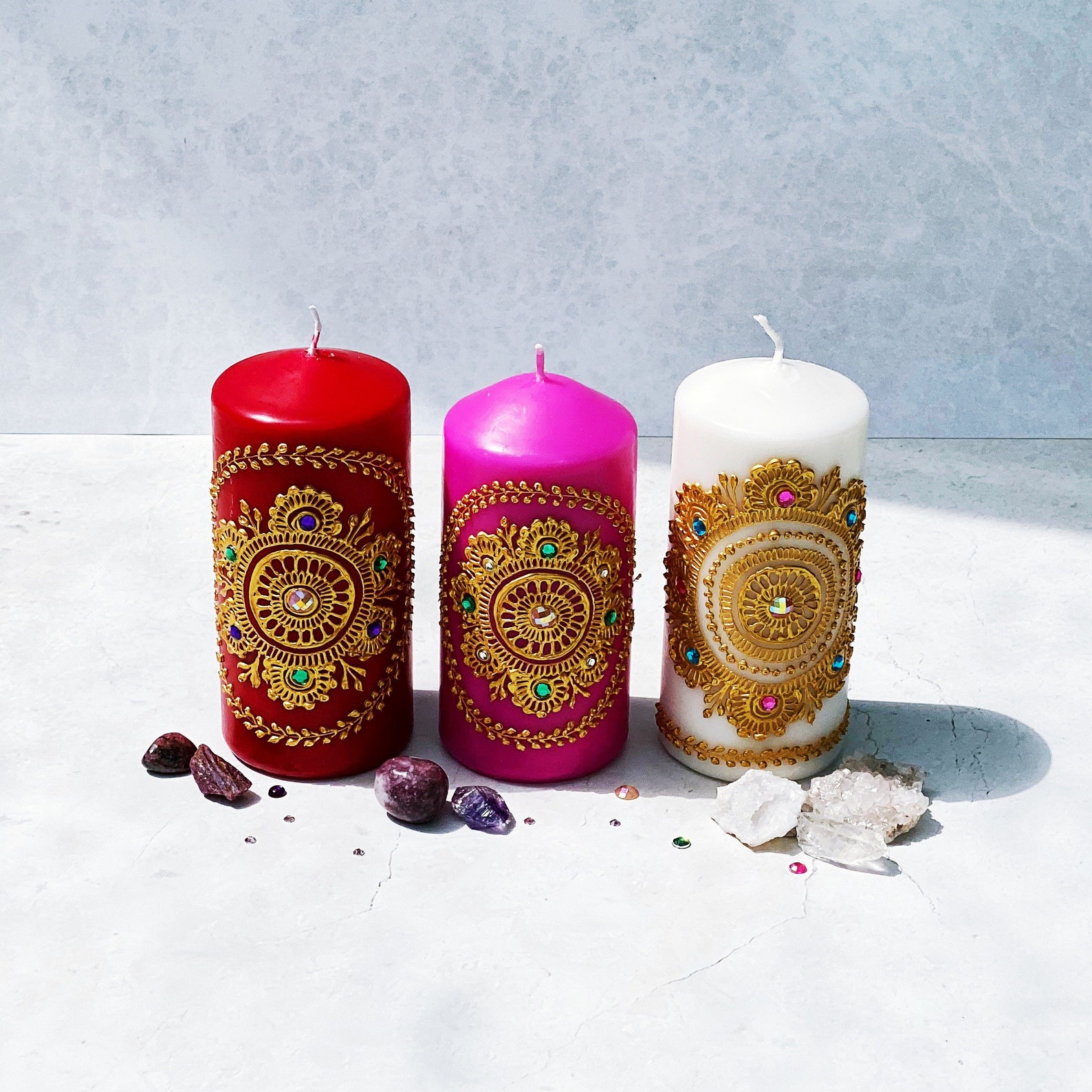 3D-printed Earrings
In an era of 3D printing, why should Mehndi favors be left out of the trend? These cool, geometric mandala earrings are made with 3D printers They are stunning statement pieces and make the perfect gift for the modern bridal Mehndi party.
Aromatic Potli bags
While potli bags have been used for all sorts of party favors, there is a way to have these stand out as a Mehndi favor. You can use dried flowers to add a burst of color to your gift bags. Pairing a classic drawstring sachet with these scented petals will make sure your Henna celebrations linger even after the guests go home.
If you're going for value, we recommend these classic silk pouches from Amazon. However, if you're willing to splurge, consider these designer sachets by Marisa D'amico. For a more traditional look, these Potli bags are perfect.
Statement Floral Earrings
Flowers are a classic, but they don't have to look traditional. These sleek, modern peach earrings are classy, statement pieces that your guests will love. Elevate your bridal Mehndi party by gifting these to your guests, who will love these modern and fashionable jewelry pieces.
Colorful Umbrellas
Want a Mehndi gift that doubles as gorgeous party decor? Why not give your guests these colorful Indian-inspired umbrellas -- first as photo props, and then as take-home gifts!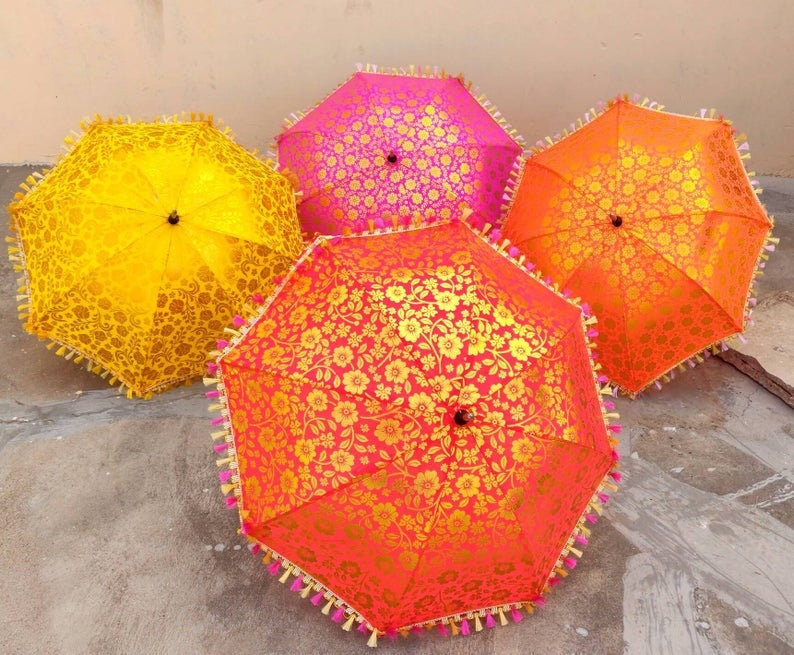 Vintage Bangles
Bangles are gifts that never go out of fashion. This vintage Etsy find that comes in a variety of colors is no exception! Give your girls a unique fashion piece that will stay in their closets for years.
P.S. Find the top henna artists in Dallas, Houston, and Austin on The Desi Bride!
Need help with planning your dream Indian wedding in Dallas, Houston or Austin?
Use The Desi Bride Wedding Venue Concierge to find your luxury wedding venue
Find top Indian wedding hair & makeup artists in Dallas here
Find top Indian wedding hair / makeup artists in Houston here
Find top Indian wedding hair and makeup artists in Austin here
Fly in luxury celebrity Indian bridal hair and makeup artists for Texas Desi weddings from this list
Find top Indian wedding photographers in Dallas here
Find top Indian wedding photographers in Houston here
Find top Indian wedding photographers in Austin here
Fly in luxury celebrity Indian photographers for Texas Desi weddings from this list
Find other Indian wedding vendors for Texas South Asian weddings on The Desi Bride