You've begun your Desi wedding planning process, spending hours upon hours researching wedding vendors and looking everywhere for inspiration. As wedding preparations begin to ramp up (or wind down), you realize you haven't prepared invitations yet! This should be easy, right? A quick online search sends you into a frenzy. With so many options to choose from for wedding invitations and different tips on how to address invites, how do you know what's right for you, especially if you are an Indian or South Asian couple?
Here at The Desi Bride, we've taken it upon ourselves to break down the wedding invitation process, making your life easier. Sit back, relax, and enjoy this piece covering all you need to know about Desi wedding invitations from how to find the right Indian wedding invitation to designing and addressing your wedding invitations.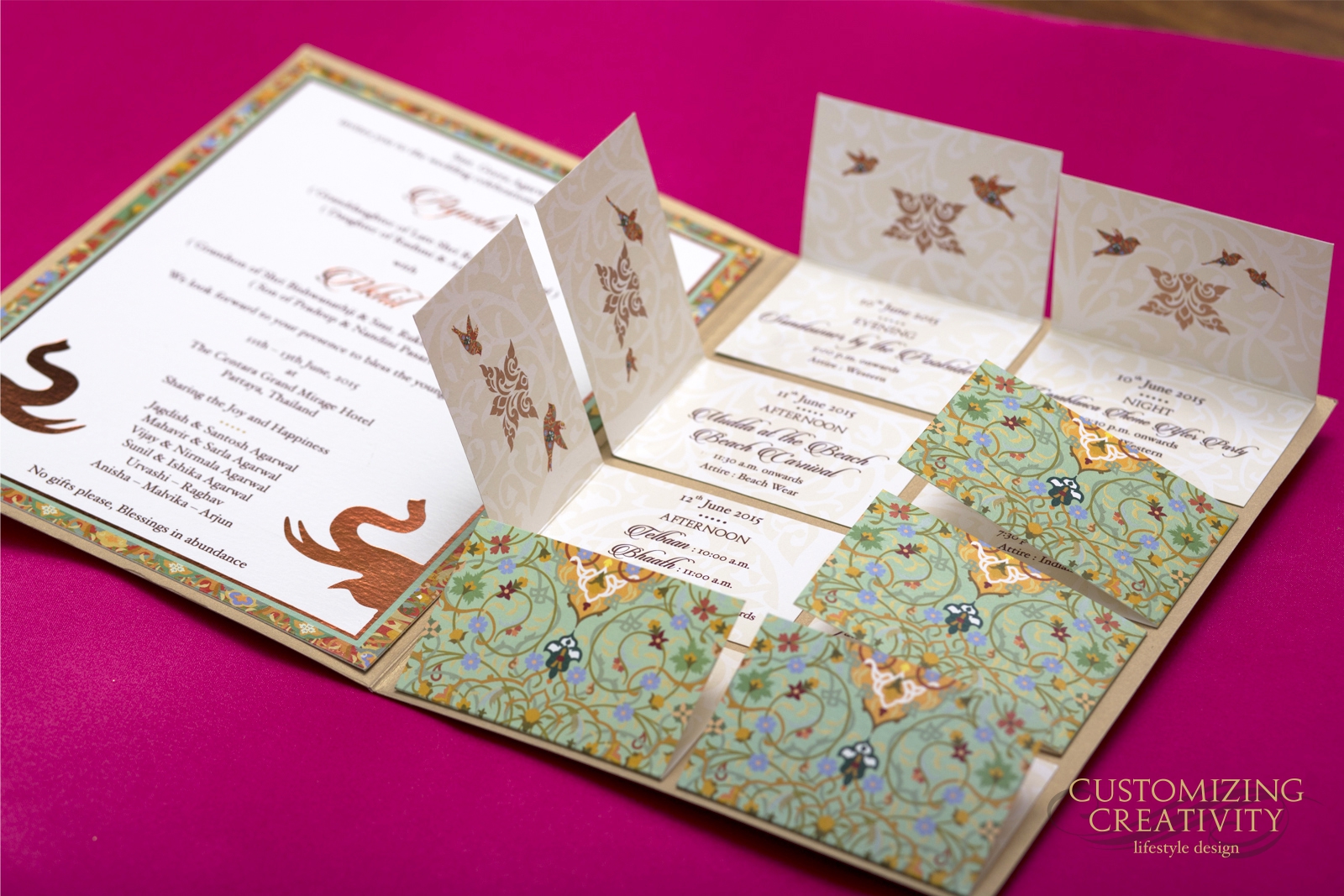 Source: Customizing Creativity
The Process: Where do I start with Indian wedding invitations?
The first step in the wedding invitation process is to decide on the type of invites you want. There are plenty of digital and paper-based options to choose from; you can even purchase pre-designed invitation templates if you choose not to customize invites. For a sustainable wedding, we recommend taking the digital route or choosing plant-based invitations (made from seed-based paper)! After choosing a type of invitation for your event, it's time to set a budget for your invitation expenses. Although you could do this step first, we've seen that with the nature of wedding invitations, it's possible to find options suitable for any budget! Keep in mind that for hand-held paper invitations, people expect to spend anywhere from $2 to $10+ per invitation. If you're looking to cut costs, or perhaps just looking to practice sustainability, digital or plant-based invitations are a great option! We know choosing invites is mostly based on personal preference, so we've noted the pros and cons of both digital and paper-based options to make your decision easier.
Benefits of Digital Wedding Invitations
With digital invitations, the most notable benefit is the RSVP Tracking feature that comes with most platforms (we'll talk more about this later)! This feature makes it easier for you to stay on top of your wedding planning and takes some stress off of you. Additionally, evites are not only better for the environment, but also for your wallet! As opposed to paper invitations, evite pricing will most likely run anywhere up to $2 per invitation, depending on your customization. Although evites are far more cost-friendly, they don't come with the same joy of hand-held invitations, which have been the primary choice for South Asian weddings for years. Nonetheless, if you're the couple looking for an easier way to send out invitations that won't break the bank or host a sustainable wedding, digital invites are perfect for you!
Benefits of Traditional Paper Wedding Invitations
Let's talk about the most common wedding invitations: traditional paper invitations. These offer a grand, timeless feel for you and your guests, making these perfect for the big fat Indian wedding. If you're choosing to go the traditional paper card route, be sure to have time set aside for the designing and addressing of the invitations. We'll discuss this process more below, but paper-based invitations often tend to take longer to create, and with the wide range of papers to choose from (glossy, parchment, cardstock, etc.), you'll find yourself spending more time choosing a paper type and creating your designs. Keep in mind that with paper invitations, you'll need to personally mail them out to your guests; if you're sending several invitations for different events, you'll need to keep track of RSVPs for multiple lists. This can be quite tedious and time-consuming, perhaps not ideal for couples that are short on time. If you do go the wedding paper invitation route, you may still want to use Appy Couple or a different website to keep track of RSVPs and include the RSVP link.
The Process: Different Styles of Wedding Invitations and How to Order Them
Ordering Paper Desi Wedding Invitations
With paper invitations, you have two options: pre-made paper invitations or bespoke Desi wedding invitations. For those with the right amount of time on their hands, the latter option may be more ideal and adds a personalized touch to your invitations (at a cost)! We spoke to Disha from Customizing Creativity, a design studio based in Mumbai, on all things wedding invitation-related. She mentioned that for bespoke invitations, they need anywhere from three to five months to create and send your invitations to you. At Customizing Creativity, the process begins by working with you, the couple, to create a design that fits the aesthetic you have in mind. The three to five months period entails revisions you may have as well as final printing of your invitations with shipping. Do keep in mind that you'll need to block out time to send out your invitations to your guests, so we recommend starting early to prevent clashes with your existing timeline. If you're looking for pre-made desi wedding invitations online, Customizing Creativity has plenty of designs on their Etsy page, which simply need names and your wedding date.
Source: Customizing Creativity
Ordering Digital Indian Wedding Invitations
Moving on, let's talk about digital invitations, perfect for the couple seeking convenience in their Indian wedding invitations. When it comes to wedding evites, there are tons of platforms to choose from, all with their own unique features. A customized design can take slightly longer to create but can be sent to wedding guests through email, making this a quicker, more efficient option. Digital invitations can either be in video or evite form, or both! When asked about how to order these invitations, Disha from Customizing Creativity said "social media is how [customers] find us...once they reach out to us, our responses are very prompt," showing us how simple the process is. She also mentioned that when it comes to creating a timeline for sending out invites, every country has its own customs and traditions. For example, in India, "it's totally okay to send out the save the date three months in advance, but with other countries, people may want to send out save the dates up to a year or a year and a half in advance." In the U.S., we recommend sending the save the dates at least 9-12 months in advance, or longer if you are planning for a holiday weekend wedding.
Digital invitation platforms come with tons of other perks with the creation of your invites. Zola, an online wedding registry, offers a robust guest list feature that's very easy to use. With this feature, you can add guests at any time, and their mailing addresses, RSVPs, and meal information get collected. Other platforms such as Appy Couple and The Knot also give you a bang for your buck, with their guest messaging features, amongst many others! To customize your orders, all you have to do is go on their website; with the click of a few buttons, you're on your way to having the evites of your dreams.
Source: Customizing Creativity
Ordering Plant-Based Wedding Stationery
Last but not least, you have plant-based stationery, the closest to traditional paper invites. We know desis love to send out glamorous wedding invitations, but this can come with a harsh environmental cost; plant-based invitations solve this problem! If you're looking for a sustainable choice for wedding invitations that retain the "touch and feel" aspect of paper invitations whilst keeping our planet clean, this is the option for you! For these invites, you can check out online retailers such as Plantables, an eco-friendly stationery company based in India. As with most other Desi wedding invitations, designs are highly customizable and can be catered to your needs. Since these products can take anywhere from a few weeks to several months to create, you should aim to place orders well in advance to ensure successful delivery of your invitations.
Source: Plantables
Wedding Guest Count Management and RSVP Tracking for Evites
Nowadays, most evite platforms come with RSVP tracking. As the name implies, this feature manages your wedding guest count and guest RSVP process, leaving you with more time to focus on other wedding activities. What are the other benefits of RSVP tracking? This can depend on the platform you use, but here at The Desi Bride, we've identified three evite platforms and have shared the pros and cons of each one below.!
Zola
One of the top platforms on our list is Zola, an online wedding registry, wedding planner, and retailer. We've found that it's very simple to get set up on this platform, with tips and guidance along the way. One of Zola's main perks is that it's free to use (unless you want a custom domain for $14.95). To streamline your wedding planning, Zola offers a robust guest list feature! With this feature, Zola collects addresses, tracks RSVPs, takes note of song requests from everyone, and much more. Zola even gives you the capability to make certain events private and only visible to guests who are invited. You can manage separate guest lists and add guests to specific events using the Invite Guests tool. With this tool, you simply checkboxes next to each guest for the events they're invited to. South Asian weddings come with many events, ranging from intimate to large-scale, that take place over a series of days. If you're planning to host some events at home (ex: haldi ceremony, sangeet, etc) or at a separate location from your main venue(s), Zola's got you covered with their guest list feature! This platform, however, comes with a limited selection of 30 templates and lacks accommodation details, such as nearby hotels or room blocks. Although this isn't a one-stop shop for wedding invitations, this platform has much to offer, and with little to no cost, it's sure to not break the bank!
AppyCouple
AppyCouple, a wedding hub that prided itself on its digital sharing suite, stood out to us for its incredible design and features. Through this platform, you can send digital save-the-dates which coordinate with your wedding theme. You can also set up RSVP alerts and guest messaging! The best part is that you can privately invite guests to different events so they can see and RSVP to only the events they are invited to. Keep in mind that for AppyCouple's features to be fully functional, your guests must download the AppyCouple app. AppyCouple has two options to choose from: the "boutique" or "luxury" collection. The main difference between the two is that the luxury collection grants you access to luxury designs on the design page. When it comes to keeping your guests connected, AppyCouple makes communication processes more seamless. Coming in at $49 for the "boutique" and $149 for the "luxury" collection, AppyCouple is a bit on the pricier side, but with the multitude of features it offers, it is nevertheless a great investment for your wedding planning.
The Knot
The last platform on our list is The Knot, an all-in-one wedding planning resource. With The Knot, you can manage and track RSVPs, find hotels near your venue with discounted room blocks, set custom privacy controls, and much more! This platform is free to use, and costs $20 for a domain. With the RSVP feature in The Knot, customizability is limited to meal choices and additional questions. For further wedding planning needs, you can message your guests directly through the app via text or email. With everything in one place, including the tracking system, your wedding planning will be less stressful and will put you at ease—we know you could use some stress relief!
To make your wedding planning simpler, we've created a chart showcasing various features of our top three evite platforms: Zola, AppyCouple, and The Knot. Our chart goes over the main things to look for on a digital invitation platform.
How to Word Your Indian Wedding Invitations
As your wedding invitation process begins, you will have to plan out the wording of your invites. By this, we mean whose name comes first, how you address your guests, etc. Traditionally, on the host line, you'd see the names of those who are financially responsible for the wedding, such as parents or grandparents. In today's generation, it's common to see the names of both families e.g. "The Shrimali and Singh Families Welcome You." On a wedding invitation, the most important line is the one with the bride and groom. For a traditional Indian wedding, when it comes to the couple's names, the bride's name would typically come first. In these weddings, the traditional sentiment is the bride's parents "giving away" their daughter. Over the years, we've seen this change. If you're the couple looking for a modern approach to your wedding, the order of names won't matter!
Sustainability Trends for South Asian Wedding Invites
Let's take a look at trends within the wedding invitation industry. With the rise in sustainability movements across the globe, there's been an increase in the preference of eco-friendly wedding invitations. This includes digital invitations as well as plant-based alternatives to traditional paper invites. Disha from Customizing Creativity stated that she's seen a surge in digital invitations with the onset of the pandemic, and mentioned that "it's pretty much here to stay." She expects this to continue over the next few years, and with the easy availability of digital and video invitations, it's become easier than ever to create custom wedding invitations online.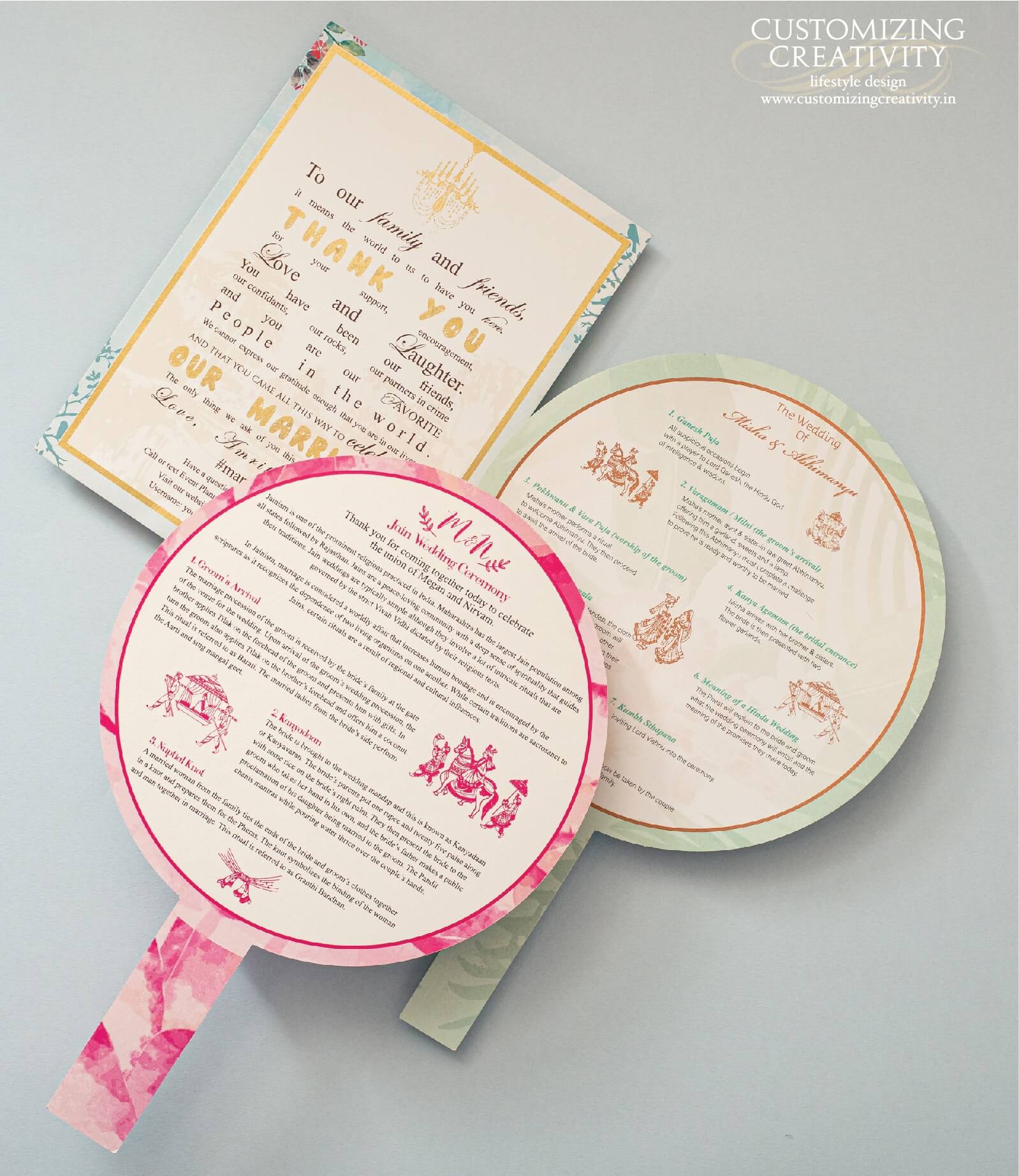 Source: Customizing Creativity
Finally, if you are shopping for wedding invitations, The Desi Bride hosts several incredible wedding stationery vendors. Check them out here. If you are looking for other vendors like wedding venues in Texas, wedding clothes, or a wedding photographer, start your search for your dream wedding vendors on The Desi Bride today.